PROFESSIONAL UPHOLSTERY CLEANING COMPANY IN DUBAI (SOFA, CARPET, MATTRESS AND CURTAINS CLEANING SERVICES IN DUBAI)
DELTA Cleaning Services will take great care of your fabric covered walls, sofa cleaning, furniture cleaning and even mattresses. Whether you have a dirty couch, sofa, dining chairs, or any upholstered furniture we can restore its brightness, freshness and hygiene.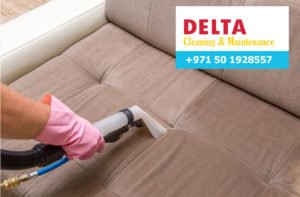 We can improve the health and hygiene of your home when we clean your upholstery. Cleaning your upholstered furniture will remove body oils that can accumulate with constant use. These oils can dull the colour and create stains on armrests, headrest and cushions. Constant use can also render your fabrics unhygienic, as they become places for odours, allergens and bacteria to live. Of course, general stains and constant use will also take their toll on your fabrics and upholstery.
Our professionals are trained to clean your fabrics and upholstered furniture by utilizing our industry leading cleaning processes. DELTA Cleaning Services' technicians are specially trained in the care of all fabric types. We use gentle, yet effective products to deep clean and deodorise your upholstery.
To keep your newly cleaned fabrics and upholstery looking clean and bright we recommend an application of fabric protector after we have cleaned your items. This will keep your fabric looking fresh for longer and will assist with the cleaning and treatment of any stains in the future