We offer the best Vinyl Floor Polishing Services in Dubai, UAE
DELTA Cleaners specialise in vinyl floor cleaning, scrubbing, stripping, and polishing. Our vinyl floor cleaners use the latest machines and state-of-art technology to scrub all the grime and grease away from your floors. You will be amazed to see the final result after we strip, seal, and polish your vinyl floor.
At DELTA Cleaners, we strive to provide you with the best and long-lasting ways to protect your beautiful, glossy flooring. With time your vinyl floor can get stains, scum, and watermarks that affect its lustre and smoothness. These issues can provide a dirty, rugged, and unpleasant look to your floor. Well, you don't have to worry about that, because the professionals at DELTA Cleaners can make your floor squeaky clean and as good as new.
Vinyl floors are known for their smooth, polished, and resistant characteristics, however flooring can become eroded with time due to several factors. Therefore, it is important to maintain its silky, bright finish. To do that, you require periodic polishing of the floor. DELTA Cleaners will provide you with the best floor cleaning and polishing services in the Auckland area. We send our tech to inspect your property to offer you an obligation-free quote.
The list of services that we provide at DELTA Cleaners regarding vinyl flooring is as follows: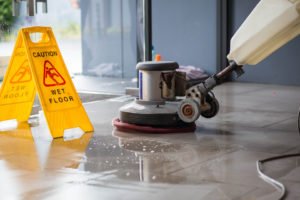 Vinyl Floor Cleaning and Scrubbing
If your flooring has been looking a bit dull and matte for a while, it may require extensive scrubbing. If the idea of doing that baffles you, worry not! We use non-toxic, safe, and effective chemicals to clean up your floors. DELTA Cleaners makes sure there are no side-effects of chemicals on your floors such as streaking, staining, etc. We have immense experience in vinyl floor cleaning and polishing. Our trained and experienced professionals will carefully determine the time, chemicals, machines to be used for the job. We will make sure the chemicals do not permanently erode the gloss finish off your flooring
Vinyl Floor Striping
If you want to keep your floor looking great with a glass-like finish, stripping and polishing have a considerable role in it. DELTA Cleaners uses the leading brands of machines to strip off the worn-out layer of polish, and reapply it. Our experts know the correct balance and pressure needed to scrape off the floors, which will reinstate the shine like that of new flooring. Stripping and polishing are very vital if you want to prevent penetrative stains and permanent loss of lustre from your floor.
Vinyl Floor Sealing
When it comes to floors, they receive the most foot traffic. Friction from furniture, trolleys, etc. means that flooring may inevitably wear off. To protect the base of the floor, we seal the floor after stripping. This prevents dirt and grime from settling into the pores of vinyl. One coat of sealer is applied after vinyl floor cleaning and stripping. The vinyl floor sealant will help polish to stick better and give it a smoother base.
Vinyl Floor Polishing
Polishing is a very important process. It will give your floor a shiny, glossy look. We apply three coats of polish to the vinyl floor, and use top quality slip-resistant emulsion polish, providing an excellent, hardwearing and high gloss protective film to the floor. You will be amazed to see the final finish.